Since 1976, the experience give us the advantage to offer the best hunting services and equipment that you deserve and expect. As professional outfitters, we can provide you with exceptional service at all times. Our references speak for themselves, as Alcampo achieves excellence every season.
Alcampo Hunting Adventures, operates on the west coast of México, in Sonora State, with over 1,200,000 acres of privately leased ranches. Our properties are strictly managed for trophy desert sheep, mule deer, plus coues deer and doves. Our management program has paid off by producing the largest mule and coues deers in Sonora.
Grand Slam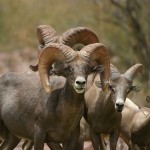 Alcampo offers you an exclusive hunt when your aim is to wrap up the Grand Slam with our prized Desert Bighorn Sheep.
With a total area of 900,000 acres to hunt in Sonora and Baja Sur, you can expect a healthy population of mature rams.