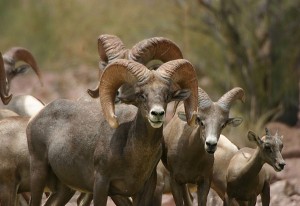 Hunt the beautiful sierras of Sonora and Baja Sur for North America's most prized big game animal: The Desert Bighorn Sheep.
Alcampo Hunting Adventures offers you an exclusive package when your aim is to wrap up the Grand Slam. The hunt takes place on Baja Sur (La Paz and Loreto) and the West Coast area of Sonora. Each area has an abundance of mature rams.
The terrain is extremely rugged; the size of rams is between 150 to 180 points. If a trophy ram of this class is what you're looking for, Alcampo has your game.
Hunts are conducted during December thru end of March . Our base camp location are usually tents, with good home cooked meals and beverages of your choice. Hunt will be on foot, horseback or vehicle.
Includes:
10 days of effective hunt
Transportation from the airport to hunting areas and back to the airport.
Room (tents and fly camps) and board.
2 experienced guides, translator, backpackers, cook and help.
Not Included:
Hunting documentation: Tag, Military Gun permit, CITES permit.
Air transportation to México and back to U.S.
Gratuities for guides and staff.
Season: December thru end of March
Weather: You should expect temperatures from 40° to 95° F.
Clothing: It must be lightweight khaki or camo colored (2 complete change of clothes), we recommend Advantage camo in brown; down vest and jacket; light raincoat or poncho; leather gloves; hat, cotton socks, 2 pair of hiking boots; personal toiletries, medications (include bandaids to prevent blisters) and towel.
Equipment: 1 rifle caliber.270 to .300, ammunition (as shown in your mexican gun permit), safety glasses, sunglasses, binoculars, canteen, flashlight, knife, day use pack sack ( with and without frames), sleeping bag, camera and film or memory cards, batteries.