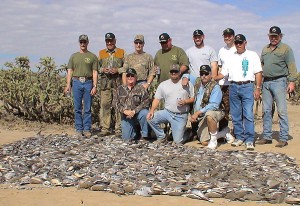 The famous Sonora Green Belt offers the best hunting region in Northwest México, particularly for Mourning and Whitewing doves.
The headquarter for this program is Kino Bay. Usually guests head out to the shooting areas at 6 a.m.; arrive aproximately 45 min. later. Upon arrival, hunters are placed into position and the action begins. Every hunter is provided with a bird boy, who will carry the shells, refreshments and retrieve the birds, all under the supervision of the guides, who will take care of every detail.
After the afternoon shoot, hunters head back to the hunting lodge, where they'll cleanup and rest. Each day ends with a celebration of the hunt and a superb dinner.
Length of hunt: 4 nights, 3 days (6 shoots) at Kino Bay, by the Sea of Cortes.
What is included:
Lodging (double/triple occupancy)
All meals: steaks, seafood (shrimp & lobster) dove brochettes, Mexican food
Transportation in Suburban and Express Van from Hermosillo's airport to the lodge and hunting areas
Refreshments (domestic liquors included)
Guides
Hunting Season: November through March.
Take a look at our lodging hospitality at Kino Bay
Not included:
Airfare
Gratuities for Guides and Birdboys
Imported liquors (you can bring your favorite brand)
Hunting licenses
Cooler/ice chest (for packing of doves)
Shells
Any expenses of personal nature
Clothing and equipment: Lightweight khaki or camo colored (two complete changes of clothes), down vest or jacket, raincoat/poncho, hat and sunblock lotion. You´re allowed to bring 2 shotguns and 100 rounds of ammunition per gun; if you´re planning to take doves back home, please bring a cooler. Also bring small bills for gratuities (we don´t handle cash).
Traveling to Mèxico with shotguns has never been easier or safer: If you don't want to bother bringing them with you, we can furnish with one of our own: Berettas (12 and 20 ga.), Benelli (in 20 ga.) and Remington (12 and 20 ga.)
Deposits and payments: We require a deposit of 50% of the price per hunter; balance is due upon arrival. We accept cash, personal and cashier´s checks. Sorry, no credit cards.
How to get to Hermosillo: Depart home to Phoenix, Az or L.A., CA.; make an early afternoon connecting flight in Aeromexico or Aerolitoral . Arrive to Hermosillo´s International Airport, proceed through immigration and customs. Reception by Alcampo´Staff. Afterward, proceed to the camp.