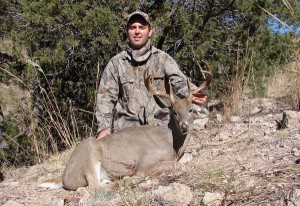 The majestic Sierra Madre Mountains is on eastern Sonora State, with elevations up to 7500 feet, are covered with oak and mesquite, mixed with all types of cactus and brush.
This is the perfect habitat for an abundance of the popular Coues Deer, found only in southern Arizona and Sonora, México.
The 30 to 70° F temperatures suit this subspecie of white tail deer.
The hunt is done on one-on-one basis and can be on vehicle, horseback or walking. Lunch is at mid-day in the field. Hunting continues until sundown, then back to camp for clean up and a nice dinner.
The average shooting range is 200 yards, this is and attractive addition to the desert mule deer hunt.
What is included:
Length of hunt: 5 nights, 4 days of effective hunt
Room and board
Transportation from Hermosillo to hunting areas and back to Hermosillo
One-on-one guide and field care of the trophy.
Not Included: Airfare, licenses, gratuities, ammunition.
Clothing: Lightweight khaki or camo colored (two complete changes of clothes); down vest or jacket; raincoat/poncho; light gloves; hat, cotton socks and a pair of comfortable, light, walking shoes.
Equipment: 1 rifle caliber from .270 to .300, ammunition (as shown in your mexican gun permit), safety glasses, sunglasses, binoculars, canteen, flashlight, knife, one day backpack ( with and without frames), sleeping bag, camera and film or memory cards, batteries, one extra duffle bag and a roll of ductape (for capes and antlers).
Hunting Season: December to January.
How to get to Hermosillo: Depart home to Phoenix, Az or L.A., CA.; make an early afternoon connecting flight in Aeromexico or Aerolitoral . Arrive to Hermosillo´s International Airport, proceed through immigration and customs. Reception by Alcampo´Staff. Afterward, proceed to the camp.
Deposits: We require 50% of the package price per hunter within 30 days after you made the reservation, in order to confirm the dates. Balance is due one month before the hunt. We accept personal and cashier´s checks, sorry we dont accept credit cards.