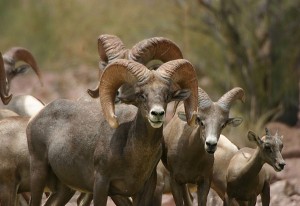 Hunt in Sonora for the most prized big game: Desert Bighorn Sheep. Alcampo Hunting Adventures offers you an exclusive package when your aim is to wrap up the Grand Slam. The hunt takes place on our property, Sierra El Álamo, at the Northwest coast of Sonora state.
This sierra has a hunting area of 80,000 acres and an elevation of 3,000 ft. (the highest in the State), which is a very special place to hunt due it is under a Program for Conservation and Repopulation of Desert Bighorn Sheep in conjunction with the Wild Sheep Foundation, on the Sonora desert, which is the perfect habitat for the specie. The size of the sheep ranges from 160 to 180+ points. If a trophy ram of this class is what you're looking for, we have your game.
Hunts are conducted during December thru March. Hunt will be on foot or vehicle.
INCLUDES:
10 days of effective hunt
Transportation from the airport to hunting areas and back to the airport.
Room and board.
2 experienced guides, translator, backpackers, cook and help in camp.
NOT INCLUDED:
Tag, Military Gun permit, CITES permit, exportation, packing and shipping of trophy.
Air transportation to México and back to U.S.A.
Tips for guides and staff.
Season: December thru March.
Weather: You should expect temperatures from 40° to 95° F.
Clothing: It must be lightweight khaki or camo colored (2 complete change of clothes), we recommend Advantage camo in brown; down vest and jacket; light raincoat or poncho; leather gloves; hat, cotton socks, 2 pair of well broken hiking boots; personal toiletries, medications (include Band-Aids to prevent blisters).
Equipment: 1 rifle caliber.270 to .300, ammunition (as shown in your Mexican gun permit), safety glasses, sunglasses, binoculars, canteen, flashlight, knife, day backpack.
How to get to Hermosillo: Take a direct flight from Phoenix, AZ to Hermosillo. Arrive into our International Airport, proceed through Immigration and Customs. Reception by Alcampo' Staff. Afterward, proceed to the camp.
Deposits: We require 50% of the package price per hunter within 30 days after you made the reservation, in order to confirm the dates. Balance is due one month before the hunt. We accept personal and cashier´s checks, sorry we don't accept credit cards