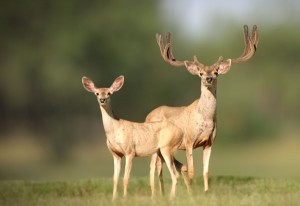 The location for this hunting program is the semi-desert of Sonora. This environment is the perfect habitat for Desert Mule Deer. During your hunt, you'll be offered facilities that include clean beds, bathrooms, electricity and modern communications with experienced personnel to service all your needs.
Guest arises at 5:00 a.m., have an American style breakfast and then head to the hunting areas with an assigned guide. The hunt is done on the basis of one guide per hunter. The hunt will be a combination of walking and driving. The guide will lead you to the hunting areas, where you'll hunt until sunset, with a lunch break and a siesta.
In Sonora, you'll be hunting in flat country of cactus and tangled brush. Any sighting may mean a quick shot. The average shooting range is 150 yards.
Sonora's desert is forbidding, but is an ideal habitat for healthy population of record book bucks; you can expect to see several nice bucks daily.
Length of hunt: 7 nights, 6 days of effective hunt
INCLUDED:
Room and board
Transportation from Hermosillo to hunting areas and back to Hermosillo
One-on-one guide and field care of the trophy
NOT INCLUDED:
Airfare, licenses, gratuities, ammunition, exportation and shipping of trophy.
Clothing: Lightweight khaki or camo colored (two complete changes of clothes); down vest or jacket; raincoat/poncho; light gloves; hat, cotton socks and a pair of comfortable, light, walking shoes.
Equipment: 1 rifle caliber from .270 to .300, ammunition (as shown in your mexican gun permit), safety glasses, sunglasses, binoculars, canteen, flashlight, knife, day backpack.
Hunting Season: December thru January.
How to get to Hermosillo: Take a direct flight from Phoenix, AZ to Hermosillo. Arrive into our International Airport, proceed through Immigration and Customs. Reception by Alcampo' Staff. Afterward, proceed to the camp.
Deposits: We require 50% of the package price per hunter within 30 days after you made the reservation, in order to confirm the dates. Balance is due one month before the hunt. We accept personal and cashier´s checks, sorry we don't accept credit cards